Updated 11/20/2018
Black Friday and Cyber Monday Tire Deals are almost here! These are some of the best deals you'll see all year. Get ready for winter weather with a fresh set of new tires.
Here's the full list. Jump a specific store, or just scroll down to see the deals:
FTC Disclosure: We may receive compensation when you click on our links and/or purchase products linked on this web site.
Take up to $100 off your order at TireBuyer! This is one of the biggest sales of the year!
» Back to the top
Walmart's
Black Friday 2018 tires ad scan. $20 off Goodyear tires and Free Lifetime Balance and Rotation! Discount is calculated off Walmart's listed prices on their website as of 11/18/2018 (discount % subject to change at any time). Links open in a new browser tab.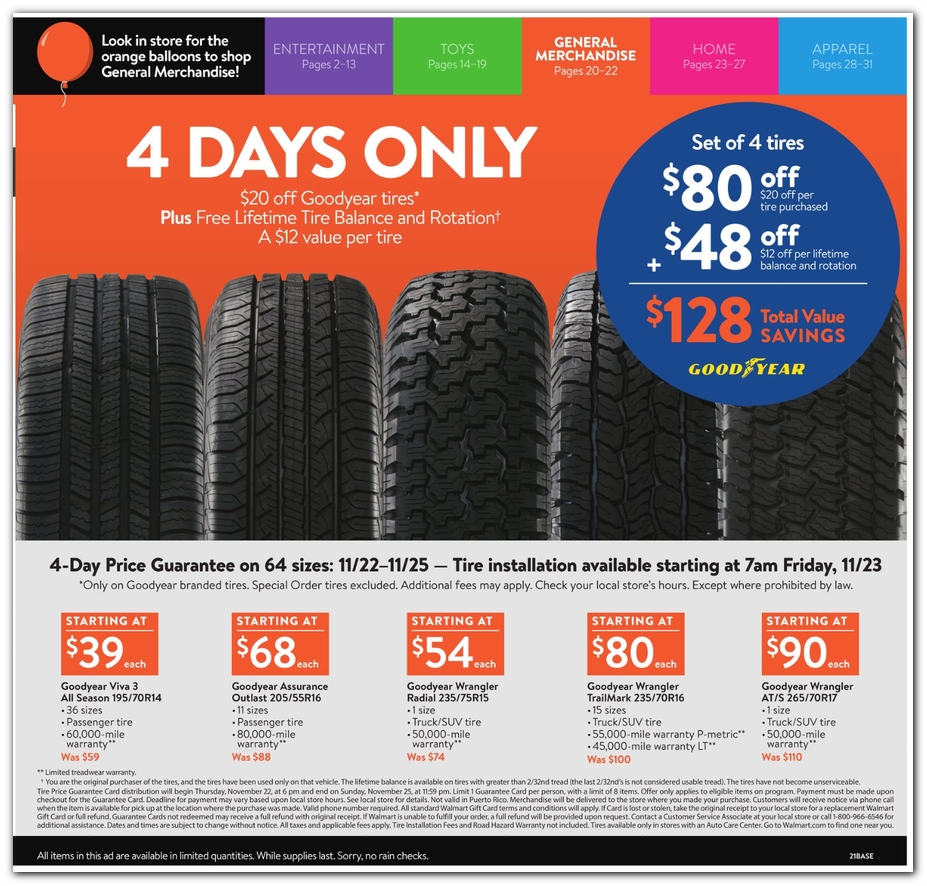 » Back to the top
Discount Tire and America's Tire Black Friday and Cyber Monday deals! Get up to 20% back on a prepaid MasterCard! Click a banner or link below to order for in-store pickup and/or installation to ensure the tires you want are in stock.
How this works is there will be several discounts you might be eligible for. For example, tires marked as "Best" will be eligible for the most discount (look at the label underneath each tire photo in your search results). You can also qualify for more discounts if you use or sign up for the Discount Tire store credit card. Manufacturer rebates also apply.
» Back to the top

Pep Boys has a Buy 2, Get 2 Free deal for Black Friday! Installation at Pep Boys is required.
Order online to set up an appointment for in-store installation.
» Back to the top
A search in Amazon's Black Friday category only matches on some tire accessories. Nevertheless, we fully expect Amazon to automatically match other retailers' pricing on Black Friday and Cyber Monday tires.
» Back to the top
In the past, BJ's Wholesale offered discounts plus free installation on Michelin and BFGoodrich tires. Check the link below to see their current deals.
Costco is featuring a hot $129.96 instant savings on a set of Michelin tires, or $70 on a set of Bridgestone tires.
Visit Costco Tire Specials page
» Back to the top
NTB has a promotion for Buy 2 Tires, Get 2 Free, with the purchase of installation services. They have several other deals going on as well. Link opens in a new browser tab.

» Back to the top
Big O Tires is featuring double rebates on Michelin, BFGoodrich, and Goodyear tires, if you use their store credit card. They also have Buy 3, Get 1 free sales on Cooper and Nitto tires. They're also providing no interest on credit if paid in full within 12 months.
» Back to the top
Les Schwab has their winter ad out, with low pricing on several tires:
City R202, starting at $39.99
Road Control Touring A/S, starting at $87.99
Reputation All-Season tire, starting at $104.98
Back Country All Terrain, starting at $158.99
Himalaya WS2 winter / snow tire (studdable), starting at $79.99
Wintercat XT winter / snow tire (studdable), starting at $98.00
Wintercat SST LT/SUV winter / snow tire (studdable), starting at $139.90
Observe GSI-5 winter / snow tire (studdable), starting at $107.99
» Back to the top
Midas has several rebate offers going on:
Up to $100 Mail-in Rebate on the Purchase a set of four select Continental tires (exp. 12/31/18)
$70 Mail-in rebate with the Purchase a set of four select Pirelli tires (exp. 1/14/19)
Up to $100 Back With the Purchase of 4 Select Goodyear Tires (1/30/19)
$25 Mail-in Rebate on Purchase a set of four select KYB shocks or struts (exp 1/31/19)
Visit the Midas.com Rebates page
» Back to the top